Now Open
The Garden at Richmond - Female Memory Care
Memory Care
Diseases that affect memory are difficult for everyone involved. At Richmond Health Care Center, we offer individual and specialized services to enhance the daily life of female residents who have been identified as having a special need for a secure environment. Our facility strives to make families feel comfortable knowing their loved one is in safe hands and getting the highest quality of care and attention they deserve.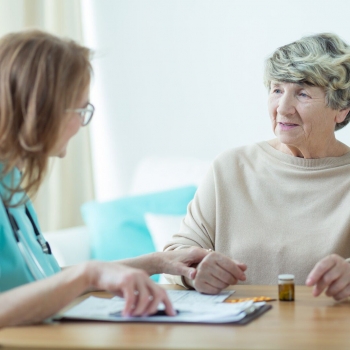 The Garden at Richmond offers the peace of mind solution since we are familiar with the effects of Alzheimer's disease and other forms of dementia such as Parkinson's Disease, Lewy Body, and vascular dementia. Our secured, women's only neighborhood requires key pad entry and exit to protect our residents from un-safe wandering. The Garden allows residents to enjoy their own dining room, activities area, and secure outdoor courtyard where they can experience mother nature in a safe, warming, and calming environment. Activities are specially designed for women with memory challenges and are in place to create a positive, stimulating environment. Music and pet therapy are available and create positive emotional experiences for our residents. Specially designed arts and crafts are offered to our residents to provide a sense of accomplishment upon completion. Parties and special events like birthdays and holidays are even celebrated just like they are at home! Family members are always welcome and encouraged to participate in activities with their loved ones here at The Garden at Richmond.
Our memory care program is individually and uniquely designed to meet the needs of your loved one. We offer long-term residential placement, short stays for rehabilitation, and respite for families that may require a short resting period. Memory care can be covered with Medicare, Medicare Replacement or Commercial Plans, Private Insurance, Long-Term-Care Policies, Private Pay, or Nursing Home Medicaid.
To find out if memory care is the best option for your loved one, please call (281) 238-8006 to talk to our amazing staff and learn more about The Garden at Richmond!